Details
AG-TC003 Hospital Adjustable Infusion Chair
IV infusion chairs should be comfortable where patients can spend time relaxing while receiving treatment. Along with the simple solutions (like installing entertainment systems) it's also important to empower patients by giving them control over their physical comfort. Our infusion therapy recliners allow the patients to adjust posture and comfort.
When choosing clinical recliners for your IV infusion therapy area, consider a modern and relaxing look and feel without sacrificing quality. Our medical reclining chairs keep both the patient and today's modern medical facility in mind. Select IV infusion therapy chairs here provide a safe, comfortable, reliable place for patients to receive treatment.
Looking for infusion chair for sale? Welcome to contact us.



Specification of infusion chair
1.Size:89*83*105cm
2.Seat height:43cm
3.Angle adjustable:110°-160°
4.Cushion and leg plate is made of 1.8mm thick imported oriented strand board ,thickness is 18mm.
5.Sitting frame is made of 25*40 square tube.
6.The thickness of other stamping boar is 3mm.
7.Imported electrostatic powder coating steel is under the high temperature baking, corrosion-resistant, non-peeling( color is black), the conventional use of the indoor in 10 years without rust.
8.Leather is PVC high-end western leather with light brown and light yellow.
9.We choose 50-density high-elastic sponge, cushion and back foam are both 90mm thick.
If you have any question on infusion chair for sale, please contact us.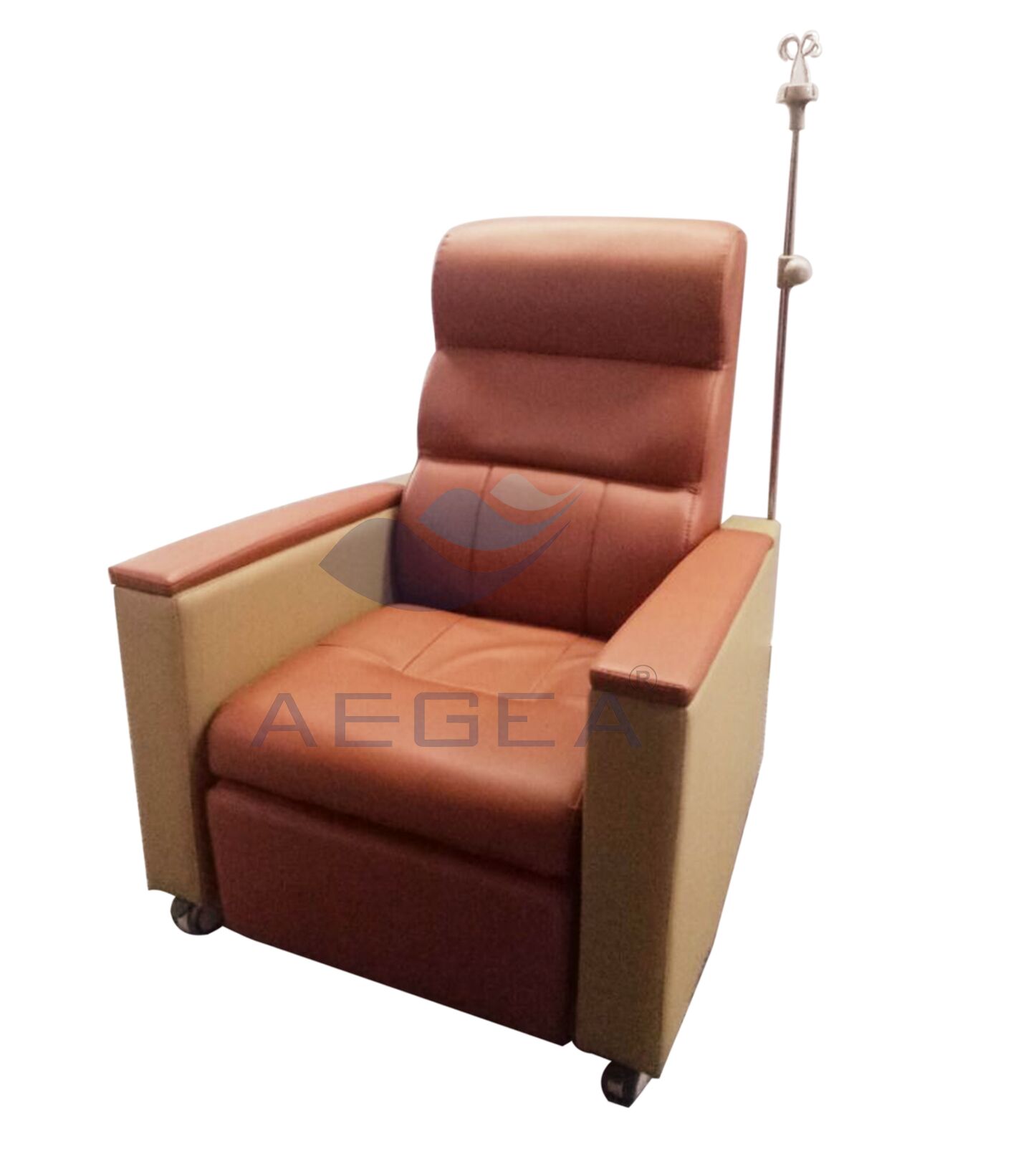 Benefits of influsion chair
1.Keeping patients comfortable and safe during long oncology or infusion treatments is crucial. At Aegea, we ensure that healthcare professionals have the clinical access and ease of use they need, while creating a comforting and reassuring infusion experience for the patient.
2.When patients need to return for multiple or lengthy infusion treatments, it's important to have a welcoming seating environment to help reduce stress. We help your patients relax with options such as gentle warming systems, massage, recharging ports, tablet mounts, and a variety of custom accessories.
3.Wide arms and foldaway tables make administering IV's easier, while seat height and vertical lift options bring the patient to your level for easier communication, so you don't have to bend as much.
4.Broken chairs mean missed revenue. Our all-steel framework assures long life, with an 10-year projected infusion chair lifespan despite continuous, extended use.